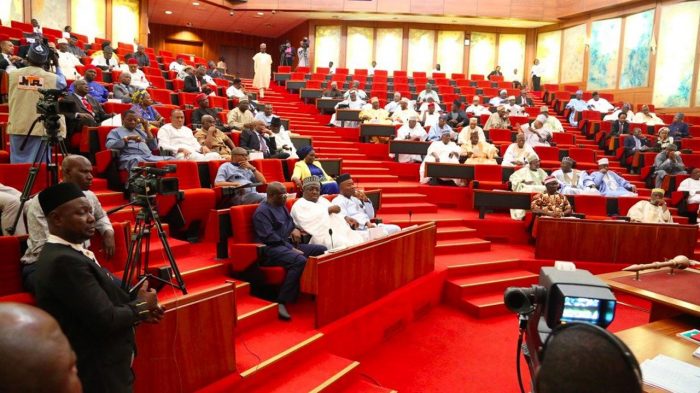 The Nigerian Senate during a plenary session
The Nigerian Senate minutes ago on Thursday, March 16, 2017 sent away, Hameed Ali, the comptroller-general of the Nigeria Customs Service, for failing to appear before it wearing customs uniform as earlier directed by the Upper Chamber of the National Assembly.
The senators in a voice vote ordered the customs boss, a retired army colonel, to reappear before the legislative arm in customs uniform next Wednesday, March 22, 2017.
Ali, who appeared in a white caftan, had told the senators that no law makes it compulsory for him to wear customs uniform.
This angered the senators, with some of them declaring the reply as derogatory and unacceptable.
They cited sections 7, 8 and 10 of the Customs Act which state that customs share the same privileges with police and other security institutions.
Ali, who arrived at around 9:30 a.m., went straight to the office of the senate president, Dr. Bukola Saraki, Vanguard reports.
He was led by Senator Ita Enang, President Buhari's senior special adviser on National Assembly matters (Senate)
Ali, who dressed in white caftan, white cap and black shoes to match, went to Enang's office at 10:36 a.m. shortly after Deputy Senate President Ike Ekweremadu and other principal officers entered the chambers.
Enang is also dressed in white.
The Nigerian Senate had on Wednesday, March 15, 2017 ordered Ali to unfailingly appear before it by 10am today [Thursday] in complete Customs uniform to explain the agency's earlier planned policy on duty on vehicles and other recent acts of the Customs.
Ali has refused to wear the Customs uniform since his appointment over a year ago, arguing that as a retired soldier, he should not be seen putting any other uniform.