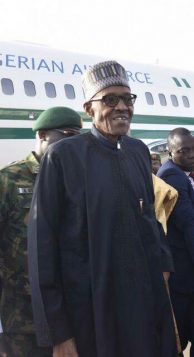 President Muhammadu Buhari has asked Vice-President Yemi Osinbajo to continue in acting capacity while he keeps resting.
Buhari returned to the country on Friday, March 10, 2017 after a 51-day medical vacation in the United Kingdom.
Shortly after his arrival, he met with top government officials at the first lady conference room at the presidential villa.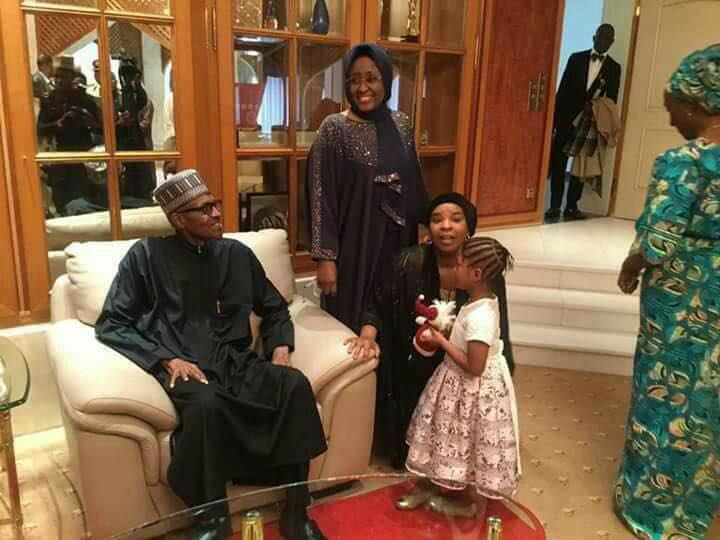 Abba Kyari, chief of staff to the president; Babagana Monguno, national security adviser; Lawal Daura, director-general of the Department of State Services (DSS) and Femi Adesina, presidential spokesman; were among those who attended the meeting.
Buhari expressed gratitude to all those who prayed for him during his time in London, and asked for more prayers.
He said he was feeling better, but still needed to rest.
The Ailing President Returns
Nigeria's President Muhammadu Buhari has returned to Nigeria, after 51 days on vacation in London, United Kingdom.
Femi Adesina, the special adviser on media and publicity said President Buhari's plane landed in Kaduna well after 7.am today in Kaduna, debunking earlier reports that the President flew in at about 4.am.
"We are now at the helipad at the Aso Villa awaiting his arrival from Kaduna. The flight will take about 40 minutes", said Adesina in an interview with the News Agency of Nigeria on Friday, March 10, 2017.
In Kaduna, President Buhari was received by deputy governor. Barnabas Yusuf Bala.
An excited Kaduna governor, Nasir el-Rufai said on Facebook:
"The President is back. He has landed safely in Kaduna and received by Acting Governor Barnabas Yusuf Bala and senior KDSG officials. The government and people of Kaduna State are proud to receive our First Citizen back to his home to face the task of rebuilding Nigeria. Alhamdulillah. Jumaat Mubarak to everyone".
Curiously, Governor El Rufai is one of the 6 Northern politicians actively lobbying Acting President Yemi Osinbajo to be appointed vice president in the event of Buhari's demise.
Adesina announced on Thursday that President Muhammadu Buhari will return to Nigeria today.
Buhari left Nigeria on 19 January for a vacation in London and was scheduled to return to work on 6 February.
During his visit to UK, he also said he would conduct some medical checks.
However, a day to his resumption, he requested for an extension of his holiday, following the recommendation of his doctors that he wait for further tests and rest.
According to Adesina, President Buhari expressed appreciation to teeming Nigerians from across the country, and beyond, who had prayed fervently for him, and also sent him their good wishes.