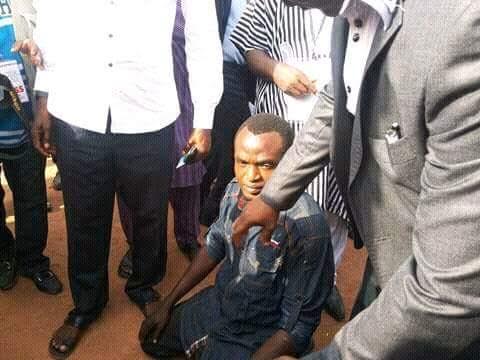 Stephen Nyitse, apprehended at the coronation of the new Tor Tiv on Sat, March 4, 2017
A 30-year-old man, Stephen Nyitse, who sat on the Tor Tiv's throne shortly before the new king was installed on Saturday in Gboko, Benue State, has been jailed for four years,
Premium Times
reports.
Nyitse was handed the sentence on Monday, March 6, 2017 after being convicted by a Chief Magistrate Court presided over in Gboko by Justice P. S Chaha.
The court held that the convict was guilty of trespass and impersonating the new Tor Tiv, V, Orchivirigh James Ayatse.
According to the prosecution, the convict made confessional statement to the police during interrogation that he was under an evil spell to do what he did on that day.
Justice Chaha described the action as a disgrace to the Tiv nation for which he deserved no mercy, and sentenced him to serve as deterrent to others.
Mr. Nyitse, on Saturday at the JS Stadium Gboko, outsmarted security men and sat on the stool prepared for the coronation of the fifth Tor Tiv, James Ayatse.
The Tiv ethnic nationality is the largest ethnic group in Benue State. Tivs are also found in neighbouring Taraba State.
Speaking to security personnel under interrogation, Nyitse said he was prompted by God to cleanse the stool for the new king.
"I sat on the stool in order to cleanse it and make it comfortable for the incoming Tor Tiv," he said.
Atom Kpera, the chairman, Central Planning Committee for the coronation, who was present at the scene, ordered security men to take him outside and punish him.
The leader of the Tiv nation, Tor Tiv V, Iorzua Ortese James Ayatse, previously served as the Vice Chancellor of the University of Agriculture and the pioneer vice chancellor of the federal university, Dustin-Ma, Katsina State.
Banished
Nyitse was, on Saturday, promptly banished from Tiv land by The Tiv Traditional Council, for "butchery of the consecrated Tor Tiv Stool".
Ter Kwande, HRH Chief Ambrose Pinne Iyortyer who announced the banishment on behalf of the Tiv Traditional Council said the punishment is with immediate effect.
And that Mr. Stephen Nyitse shall under no circumstances step his foot on any part of Tiv land anywhere in the world.
In the statement, the TTC prohibited all sons and daughters of Tiv race to offering any form of assistance to the banished former son of Tiv, Mr. Stephen Nyitse.