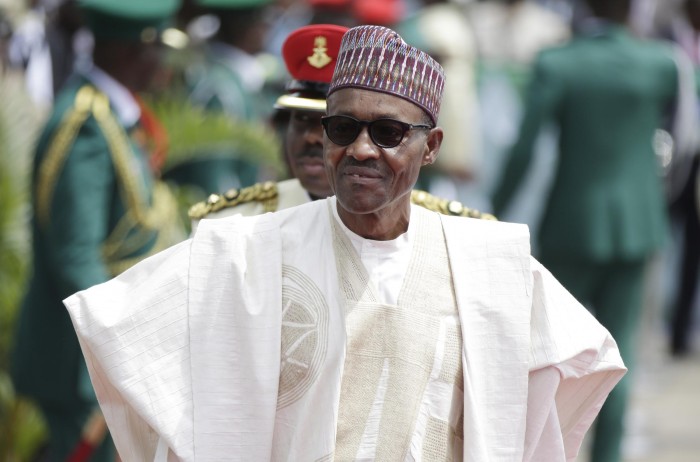 General Muhammadu Buhari, arrives the Eagle Square for his Inauguration in Abuja, Nigeria, Friday, May 29, 2015. (Photo Credit: AP/Sunday Alamba)
A human rights group in Nigeria, International Society for Civil Liberties and the Rule of Law, INTERSOCIETY, has has published a special report titled, Welcome to Bleeding Republic of Nigeria: A Land Flowing with Blood and Tears, detailing the regime atrocities of the General Muhammadu Buhari regime.
The report which was released on Sunday, March 12, 2017, is a compilation of widespread human rights abuses in Nigeria in the past 20 months of the four-year tenure of the the Buhari government. It covers the period 1st June 2015 to 31st January 2017 and reveals that a shocking 11,000 people have been killed unlawfully in Nigeria.
"The report is focused on civil and political Rights; which is one of the four internationally existing generations of human rights. These fundamental liberties include citizens' constitutional and legal rights as well as regional and international rights provided in Sections 33-46 of Nigeria's 1999 Constitution and several regional and international legal and rights instruments or treaties accepted and assented to by the Federal Republic of Nigeria," Intersociety says in the introduction of the document.
"The Civil and Political Rights are also regarded by the Constitution of the Federal Republic of Nigeria 1999 amended in 2011 as living rights or justiciable; which legally and constitutionally means that they are governmentally observable, protectable and enforceable, and can be compensated in the event of their breaches. This is by virtue of Section 46 of Nigeria's 1999 Constitution.
"Those holding judicial, executive and legislative offices in Nigeria are also mandatorily required in Section 13 of Nigeria's 1999 Constitution to conform to, observe and apply these constitutional liberties in discharge of their constitutional duties.
"President Buhari's military background and his grossly poor human rights antecedents including 20 months of his maximum military rulership (January 1984-August 1985) was critically assessed and compared with past 20 months of his present civilian presidency in Nigeria."
The group also exposed shocking details of the deaths of over 11,000 civilians at the hands of state-actors and terrorists group, some believed to be operating with the backing of the present government.
"A total of over 11,000 criminal or unlawful deaths were also recorded in the said past 20 months. This is the highest in the history of democratic Nigeria; particularly under a non-war situation," the group noted.
"The most shocking part of it is that the central Government of Retired Major Gen Muhammadu Buhari and its security agencies particularly the Army, Police and Air Force are collectively responsible for about 52% or over 5700 while the Nomad Fulani and the Boko Haram terrorists accounted for the remaining 48% or over 5300 others."
Intersociety reports, majorly, on democracy and good governance advocacy organization. The organisation's advocacy activities cover the subjects of civil liberties and rule of law; democracy and good governance; and public security and safety. Intersociety is based in Onitsha, Southeast Nigeria. Visit the organisation's
website
for more information.