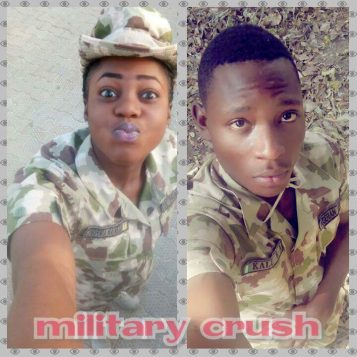 The Nigerian Air Force has confirmed the arrest of air force man, Kalu B.A, for allegedly shooting dead his girlfriend, Solape Oladipupo in Markudi, Benue State.
The incident happened on Saturday, March 11, 2017 at the NAF Tactical Air Command, Makurdi, Benue State.
Punch
reports that the lady, popularly referred to as Shomzy, was allegedly shot dead by Kalu after he accused her of having a romantic affair with other men.
Kalu had subsequently been arrested and placed in military detention. His last social media meaaage, reportedly, was a repost of a love story which he shared on Facebook earlier in the year alluding to "both living happily ever after". His comment include "my last night as an air man". see screen grab;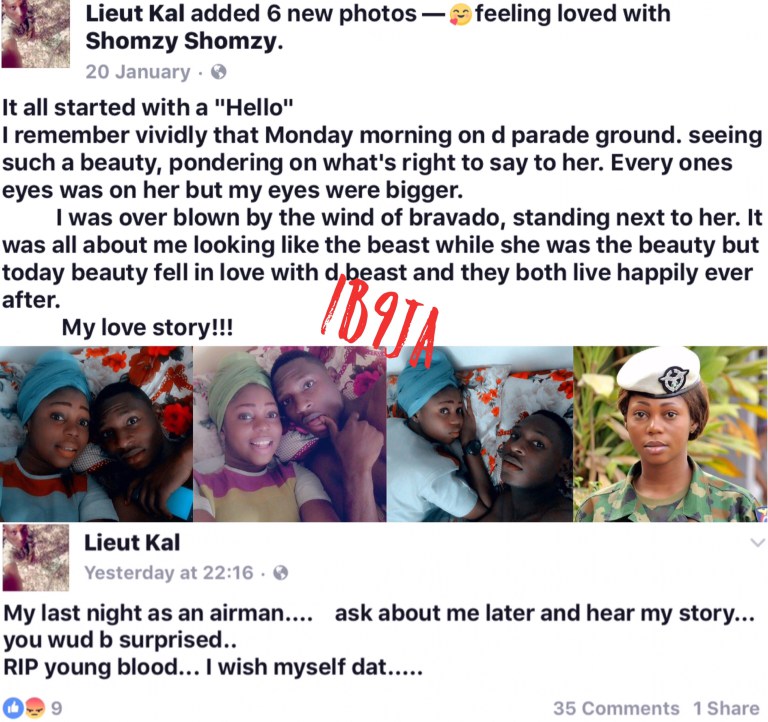 Screengrab from Facebook | Bonsue TV
It was gathered that the two air force officers had had an affair for some months, after they met at a military parade. The affair turned sour after Kalu accused the deceased of cheating on him with other men.
The NAF Director of Public Relations and Information, Group Captain Ayodele Famuyiwa, said investigations were ongoing into the matter to ascertain the motives of the suspect.
He said, "An airman and an airwoman were involved. They had a love relationship which resulted in the shooting. We do not yet know what transpired between them.
"She was initially rushed to NAF hospital, but when it was beyond their control, she was transferred to the state hospital where she died. The body has been recovered to our base now."
"The boy (Kalu) has been arrested. He did not die. The post on the social media is mere speculation. He is alive and in custody. Investigations are ongoing into the incident. We will unravel the circumstances that led to the incident."
Friends of the late Oladipupo took to her Facebook page to mourn her, saying that Kalu must be prosecuted for the killing.
One of the friends, identified only as Esther, wrote, "This is why military girls do not like dating soldiers. This is madness. If she was in love with a civilian, he would not even dare to slap her. This is too much."
Another wrote, "Rest in Peace, Shomzy. Your death is something I cannot easily forget because of your great military plans. Well, I can't continue crying my dear, because all I have to do is to let go of what I cannot change."