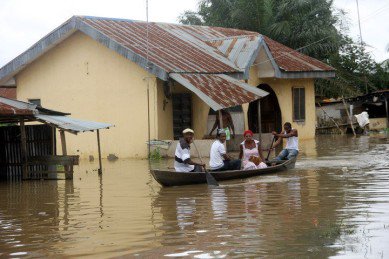 FixDelta, a twitter handle that has been gaining popularity and attention for championing the movement to re-fix oil rich but underdeveloped Delta State which have been tweeting contemporary issues and failure of the Delta State Government to better the lot of Deltans for the past few weeks, haven picked the Girls Model School Enwreni as a tweet topic on Friday 14th of April 2017 gave concerned and dissatisfied Deltans at home and in diaspora the opportunity to air their views over the level of infrastructural dilapidation in the state.
Today the FixDelta handle dropped tweets with pictures of decayed infrastructural sections and other areas in the state in dire need of urgent attention, this generated different reactions from various quarters with many calling the government of Delta out and to sit up while others suggested solutions on how to #FixDeltaState
The Twitter handle called on Deltans to arise! as many people reacted;

The
#FixDeltaState
project should be looked into without delay, it is what every Deltan pray for
look at
Jarret-street-Cable-Point-Asaba
Delta state is only open to business and investment on facebook
In real life
the only thriving businesses are: Beer parlour,
#FixDeltaState
This is Delta State! our collective voice to revert this ugly scene can only be done tru our collective consciousness.
#FixDeltaState
Delta State receives one of the highest allocations from the FG …
Yet the streets of Asaba are like this whenever it rains.
#FixDeltaState
This is ogume community.
Delta State.
I visited with a friend and had to lodge 4 days cos no light for 7 years
#FixDeltaState
The roads are bad, the infrastructures are dead, human capital is almost at zero level
#fixDeltaState
Oh poor children! Your wealth is shared among a few and they leave u all helpless
#FixDeltaState