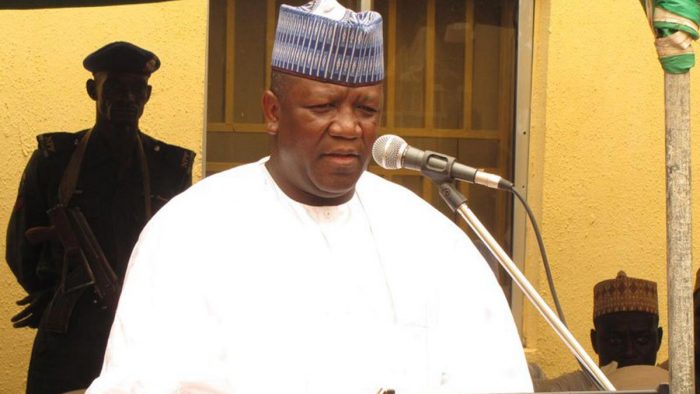 Governor Abdul'Aziz Yari of Zamfara State
"I stand by my words that if people do not change, God will not change for them," Governor Yari said.
"Therefore, I will answer the Emir perfectly and give him the Quran content of the Hadith where I belong to and where I have my fact.
"For instance, I made mention that in the past we have Type A, which vaccines have been brought and they have vaccinated over 4 million doses in 2011.
"We are now having Type B and Type C which they don't even know. At the Centre for Disease Control in Chicago where we get our vaccines from, they only have 5 million," he said.
HRH Mohammed Sanusi II, on Wednesday, at the opening of the Kaduna State Economic and Investment Summit, criticized the statement credited to the Zamfara State Governor on meningitis, saying they were horrendous and "Islamically incorrect."
With more than 213 deaths, Zamfara is the worst hit state in the outbreak of the disease.
'Punishment For Fornication'
On Tuesday, at the Presidential Villa, Yari told journalists that "the outbreak of stereotype C meningitis is God's way of pouring his anger on Nigerians".
"The most important thing is for our people to know that their relationship with God is not smooth. All they need to do is repent and everything will be all right," he said.
"What we used to know as far as meningitis is concerned is the type A virus. The World Health Organisation, WHO, has carried out vaccinations against this type A virus not just in Zamfara, but many other states.
"However, because people refused to stop their nefarious activities, God now decided to send Type C virus, which has no vaccination.
"People have turned away from God and he has promised that 'if you do anyhow, you see anyhow' that is just the cause of this outbreak as far as I am concerned.
"There is no way fornication will be so rampant and God will not send a disease that cannot be cured."
FG Warns of New Strain Of Meningitis
The federal government says it has deployed epidemiologists and vaccines to arrest the outbreak of a new a strain of Cerebro Spinal Meningitis, CSM, in parts of the country.
The minister of health, Isaac Adewole said this on Thursday, March 16, 2017 in Abuja that the new strain, which is not common in Nigeria, was imported from Niger Republic.
Adewole said that the new strain requires a different type of vaccine and a team of epidemiologists have been deployed to address the challenge.
He described the outbreak of meningitis in Sokoto and Zamfara states as an unfortunate incidence, stressing that the ministry is working hard to contain the situation.
"It has become an annual ritual under this administration; we would want to put an end to annual outbreak of meningitis in some of the northern states.
"I have just spoken with the commissioner for health in Zamfara who is appreciative of what the Federal Ministry of Health has been doing through the Nigeria Centre for Disease Control.
"We have sent field epidemiologists; they are actually called disease detectives, to support them at the state level,'' Adewole said.
The minister said that government have provided vaccines and would continue to do more in terms of whatever was needed with respect to material and technical support to overcome the outbreak.
"What we know in public health is that there is always an outbreak, but what is uncertain is where and the type.
"We want to be ready at any time,'' he said.
Additional reports by NAN