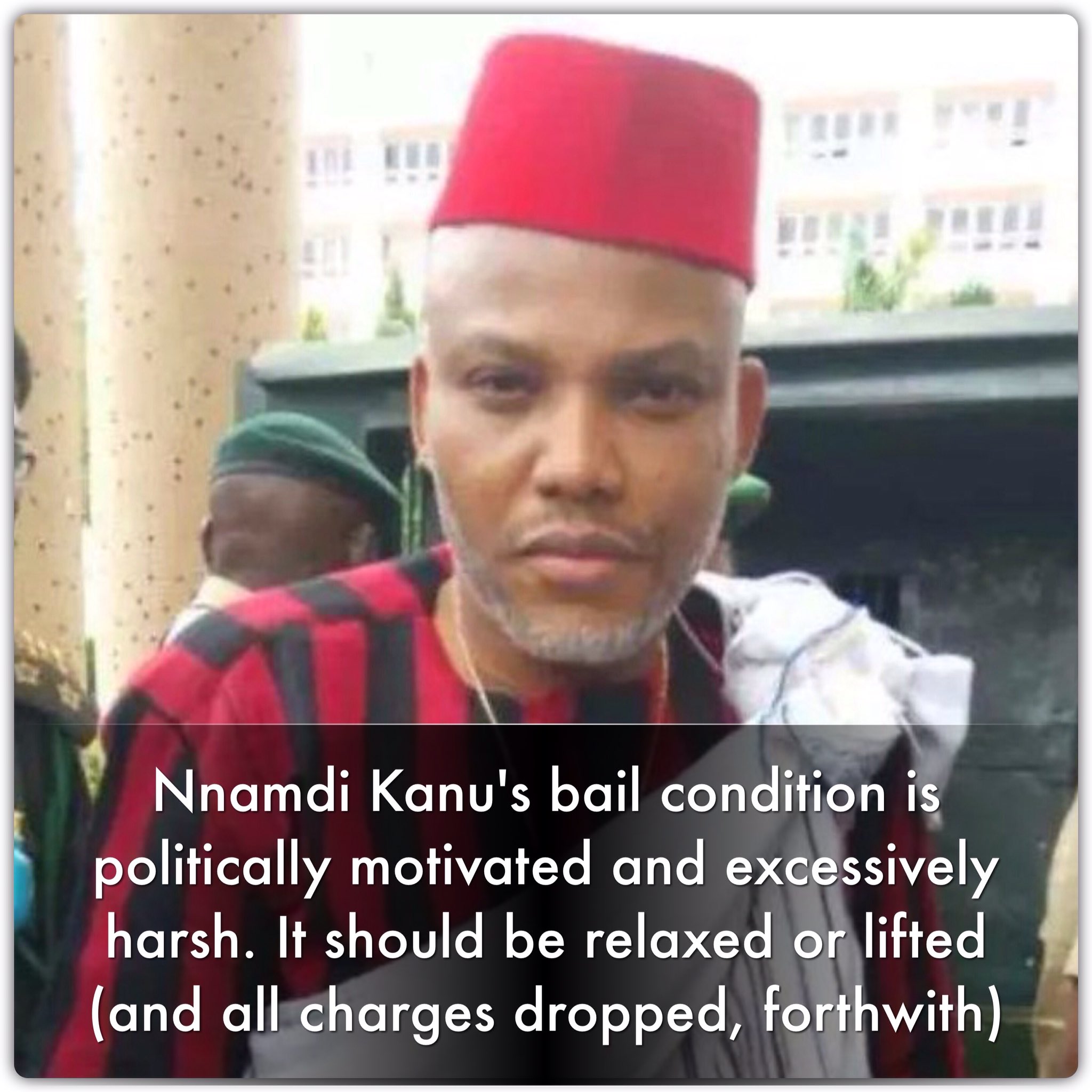 There was jubilation yesterday in the family home of pro-Biafra agitator Nnamdi Kanu in Umuahia, Abia State and various South Eastern states.
But to the family, the bail conditions are "harsh" and should be reviewed by the court. Kanu should be free unconditionally.
Speaking with reporters at his palace at Isiama Afaraukwu Ibeku in Umuahia, Kanu's father, Eze Israel Kanu, flanked by his wife Ugoeze Sally, called for the unconditional release of his son.
The traditional ruler of Afaraukwu Ineku Umuahia kingdom, however, said he was overjoyed over the news – that his son had been granted bail by the Abuja High Court but insisted that the conditions were impossible.

To the monarch, it sounds illogical for a court in Nigeria to expect a Jewish leader in far away Israel to stand as surety for a person standing trial in Nigeria, "Why ask him to produce a Jewish leader as surety? Why demand a Senator or Igbo leader who will deposit N100 million? Is N100 million N100.
"It is possible that they are looking for an opportunity to keep him in detention. It is up to the world to look at the bail conditions and see if they are justifiable for a man who has done nothing to warrant being held in prison."
Eze Kanu urged Ndigbo to "unite and take up the challenge as a people". He pleaded that other IPOB members standing trial with his son should be released unconditionally.
The elder Kanu said he had always had the faith that his son would one day be released and thanked God that such a day had come.
He hailed Ekiti State Governor Ayo Fayose and former Aviation Minister Femi Fani-Kayode for their solidarity with his son, but frowned at the absence of Igbo leaders at the court premises, saying that was an indication that they were not supporting the Biafra cause.
The IPOB leader's mother said she had been having sleepless nights while her son was in detention and thanked God for answering her prayers.
Mrs Kanu thanked all those who stood firm for the Biafra cause and prayed for her son's release, urging them to keep the faith.
Asked if she would advise her son to discontinue his agitation, she cried: "No retreat, no surrender. Biafra is a divine project."
Kanu's mother said the arrest of her son popularised the Biafra agitation and vowed to keep supporting the movement. "My son was raised by God to deliver Biafra and as God delivered Israel so he will deliver Biafra because my son is fighting for his right," she said.
Movement for the Sovereign State of Biafra (MASSOB) members described the bail granted to the IPOB leader as the triumph of light over darkness.
In a release signed by its leader, Uchenna Madu, MASSOB said it had always identified with true representations of Biafra and genuine struggle for the liberation of the people of Biafra.
The release reads: "I spent almost four years in different prisons from 2005 to 2009 which includes Suleleja, Keffi and Kuje prisons for same purpose of Biafra and was later released. Nnamdi Kanu and others won't be an exception. He represents the interest of the people of Biafra; he is not a criminal".
"MASSOB commends the efforts of Igbo governors, Some prominent and eloquent leaders, like Mr Peter Obi, Chief John Nwodo (Ohaneze PG), Governor Fayose, some Igbo National Assembly members, Nzuko Umunna and other progressive persons for their unflinching efforts in compelling the Federal Government to grant Nnamdi Kanu bail.
"As the people of Biafra erupted in jubilation all over the world in celebration of triumph of light over darkness, it shows that we are more united in our pursuit for Biafra actualisation and restoration, irrespective of our different organisations."
Separatist Nnamdi Kanu got a temporary reprieve yesterday. A Federal High Court in Abuja granted him a N100 million bail on health grounds.
But his parents complained that the conditions were harsh and meant to keep him in detention.
Justice Binta Nyako, in a ruling, noted that the Independent People of Biafra (IPOB) leader had consistently exhibited traits of ill-health in court. He was directed to produce three sureties.
But the trio of Chidiebere Onwudiwe, Benjamin Madubugwu and David Nwawuisi, who are standing trial with Kanu, were not that lucky. The judge rejected their bail.
Justice Nyako said: "I have not also seen any new argument to warrant my reviewing my earlier decision. However, as it relates to the 1st defendant, the applicant has deposed extensively on his health and appeals to the court on health grounds to allow bail on any condition.
"Overtime that the 1st defendant has appeared in court, the 1st defendant may be having some health issues as he always sits down and sweats profusely.
"I am of the opinion that the 1st defendant needs better health attention than the Prison Service is unable to provide.
"Pursuant to this, the bail of the 2nd to 4th defendants, is hereby refused. I hereby use my discretion and grant the 1st defendant bail on the following conditions:
He shall undertake before the court and depose to an affidavit that he shall attend his trial diligently and shall provide three sureties as follows;
All the sureties are in sum of N100 milliom each. One of them must be a highly placed person of Igbo extraction, such as a senator;
Second surety must be highly respected and recognised religious leader in Nigeria of the defendant's belief. A highly respected Jewish leader;
The third surety must be resident in Abuja, highly respected, with landed property and Certificate of Occupancy verified;
He shall deposit all his international passports, with the court.
"I also want a report of his health status on a monthly basis filed in court," the judge said.
Justice Nyako directed that Kanu should not grant interviews, organise rallies, and must not be in a crowd of more than 10 people.
The judge had, in an earlier ruling, rejected the defendants' application for variation of her earlier order granting protection to prosecution witnesses.
She said the defendants had not provided anything new in their earlier argument for the variation of the order.
"My earlier ruling remains as prosecution witnesses, who are security agents, will be protected as their identity will not be disclosed," Justice Nyako said.
The judge adjourned till July 11 for the opening of the trial. She said the court will take interlocutory applications only in the course of the trial.
There was unusually heavy security deployment in the court.
Inside the courtroom, Department of State Services (DSS) operatives took charge. Regular and riot policemen and Nigerian Security and Civil Defence Corps (NSCDC) officers were on guard outside the court premises.
The atmosphere outside the court premises was tense. Many visitors had a hectic time accessing the court. They were thoroughly frisked before being allowed in.
Those, who could not provide good reasons for their mission to the court, were turned back. The street leading to the court was barricaded with police trucks. A few people, mostly court officials, were allowed to drive in.
The defendants' sympathisers, who before yesterday were always allowed to stay close to the main gate, were driven far away from the court.
Dressed in various attires, the sympathisers sang and danced, creating a carnival-like scene while the proceedings lasted. When the news was broken that Kanu had been granted bail, they went wild, singing: "We have won, we have won"; and "Bye bye to Nigeria. We told them before that Biafra is real."
At proceedings were Ekiti State Governor Ayodele Fayose and former Aviation Minister Osita Chidoka.
Another former Aviation Minister, Femi Fani-Kayode, who was in court in respect of his criminal trial, was prevented by security men from accessing the court where Kanu's proceedings were on going.
At the end of proceedings, Fayose went close to Kanu, hugged him and engaged him in a brief chat.
Fayose said he was in court in solidarity with the Biafra agitators' leader.
He told the IPOB chief that he will one day walk as a free man.
Fayose said that although he was not Igbo, he came to show solidarity as somebody who believed in justice.
Kanu and others are standing trial on a five-count charge bordering on treasonable felony and managing an unlawful organisation.
They are also accused of conspiracy to broadcast materials intended to secede from the Federal Republic of Nigeria and create a Biafra State.