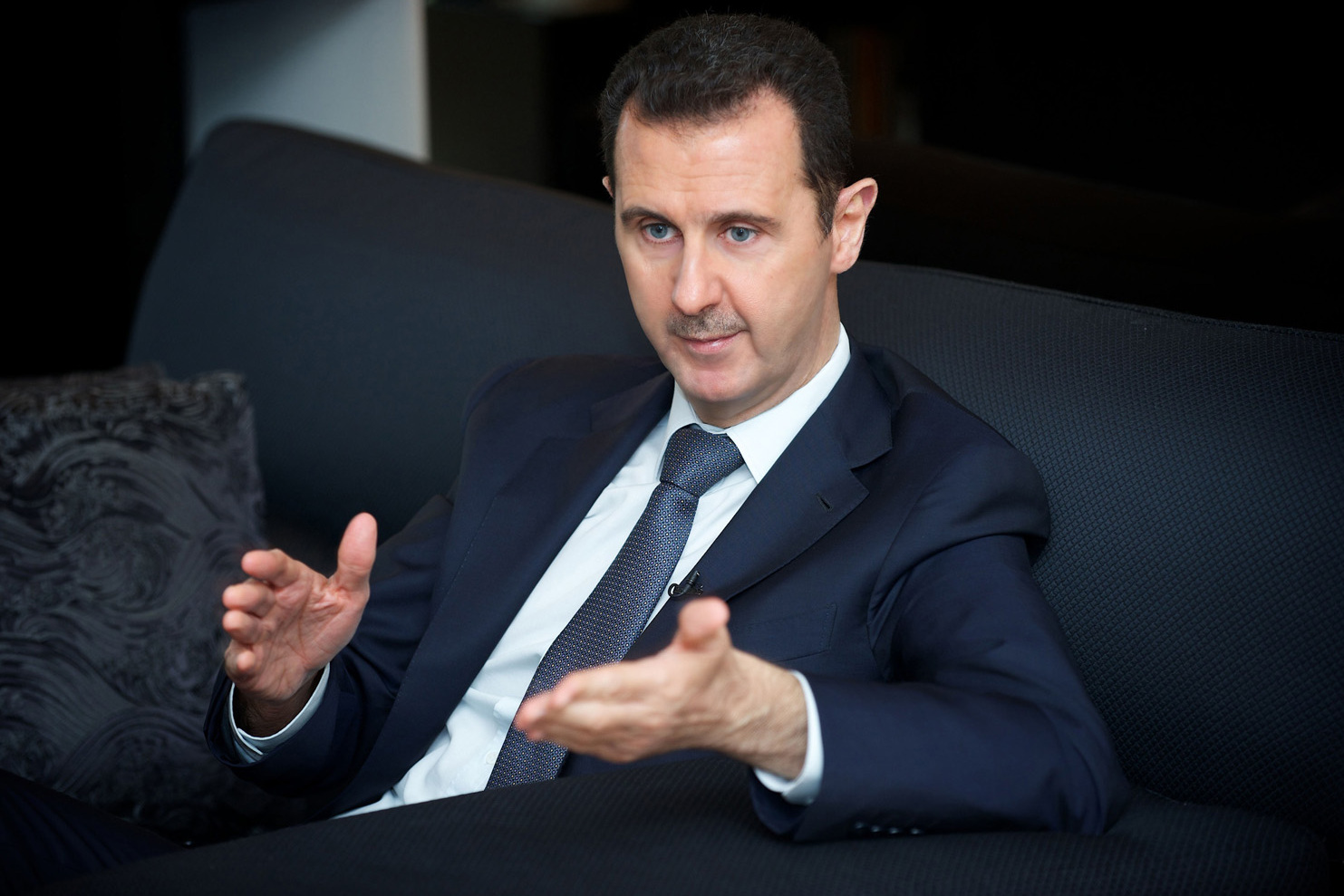 Syria's president Bashar al-Assad gestures during an interview with French daily Le Figaro in Damascus in this handout distributed by Syria's national news agency SANA on September 2, 2013. | Reuters/SANA/Handout
"Tonight, I ordered a targeted military strike on the airfield in Syria from where the chemical attack was launched," Trump said in Palm Beach, Florida. "It is in the vital national security interest of the United States to prevent and deter the spread and use of deadly chemical weapons."
The operation — the first known direct American strike on Syrian government assets since the start of the country's civil war — rained at least 50 cruise missiles from U.S. Navy ships in the Mediterranean on a Syrian airfield thought to be the point of origin for the chemical attack, U.S. officials said. The attack took place at 8:40 p.m. Eastern time.
The decision risked confrontation with Russia, Syria's patron, which reportedly had troops stationed at the air base, and could mean increased dangers for hundreds of U.S. troops now in Syria to prepare for the assault on Raqqa, the capital of the Islamic State militant group. But it also sent a dramatically different message about Washington's willingness to use force in Syria after Barack Obama shied away from enforcing his self-imposed "red line."
The decision to dramatically escalate America's role in a conflict that has left some 500,000 dead, according to human rights groups, was arguably the new president's biggest decision yet, with many unknown consequences. At home, the early response from Congress suggested strong bipartisan support for the strikes but deep concern about the way forward. Some in Congress, including Sen. Rand Paul of Kentucky, said Trump should have sought authorization from Congress for a military operation that was not in response to an attack on the U.S.
Trump explained his decision by describing the horrific images from Tuesday's chemical weapons strike in a mostly rebel-controlled area near the Turkish border, saying "there can be no dispute" that Assad's forces were responsible.
"Syrian dictator Bashar al-Assad launched a horrible chemical weapons attack on innocent civilians," he said. "Using a deadly nerve agent, Assad choked out the lives of helpless men, women and children. It was a slow and brutal death for so many. Even beautiful babies were cruelly murdered in this very barbaric attack."
So "tonight I ordered a targeted military strike on the airfield in Syria from where the chemical attack was launched," Trump said. "It is in this vital national security interest of the United States to prevent and deter the spread and use of deadly chemical weapons."
The president also urged "all civilized nations to join us in seeking to end the slaughter and bloodshed in Syria."
Congressional Democrats offered measured support for the onslaught but warned that lawmakers would need to weigh in on any sustained escalation of the conflict. Some of the lawmakers delivering that message stood idly by while Barack Obama escalated America's role in Iraq and Syria.
The top Democrat on the Senate Foreign Relations Committee, Ben Cardin of Maryland, said in a statement that "any longer-term or larger military operation in Syria by the Trump administration will need to be done in consultation with the Congress."
Cardin also pressed Trump "to inform the legislative branch and the American people about his larger policy in Syria, as well as the legal basis for this action and any additional military activities in that country."
Trump had huddled with top advisers, including Secretary of State Rex Tillerson, Defense Secretary James Mattis and National Security Adviser H.R. McMaster in Palm Beach, Fla., where he was to hold meetings Friday with Chinese President Xi Jinping. In a sign of how quickly events were unfolding, White House officials had said just a day earlier that McMaster would not travel with Trump.
Tillerson told reporters that the president had begun a long, difficult and potentially fruitless effort to push Assad from power.
The secretary of state also had tough words for Moscow, Assad's patron. "It is very important that the Russian government consider carefully their continued support for the Assad regime," he said.
"There is no doubt in our minds and the information we have supports that Syria, the Syrian regime under the leadership of President Bashar al-Assad, are responsible for this attack," Tillerson said.