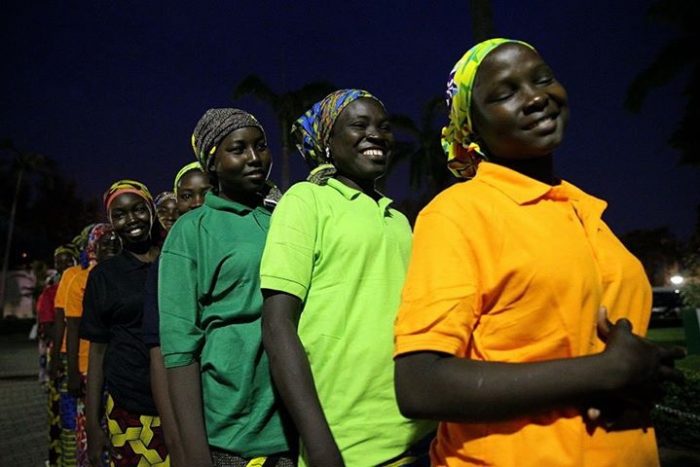 Some of the batch of 82 Chibok schoolgirls who were kidnapped from their school by Boko Haram in 2014 | Min of Information Photo
Noemie Charton, spokesman of the Switzerland foreign ministry, says her country helped Nigeria rescue the 82 Chibok girls because of humanitarian concerns.
The girls were abducted from Government Secondary School, Chibok in Borno state, in April 2014.
According to IBTimesUK, Charton said the Switzerland government engaged in the operation principles of strict neutrality and non-interference.
"Switzerland's commitment is motivated by humanitarian concerns," Charton said.
"Switzerland's engagement in this operation was guided by the principles of strict neutrality and non-interference."
Although details of the negotiations that resulted in the release of the girls have not been disclosed, David Otto, a security analyst and counter-terrorism expert, had said that negotiation with groups like Boko Haram is very complex.
"The Switzerland representative played an active role in organising negotiations from within Nigeria and outside Nigeria along with local key actors like Barrister Zannah Mustapha and [human rights activist and lawyer] Asiha Wakil who wield trust due to their pre-existing relationships with one or more factions," Otto said.
"Their roles have never been officially established except that Boko Haram require[d] their release in exchange."
The first batch of 21 were freed last October in a cash swap that officials continue to deny. Two other girls walked into freedom on their own, making grand total of 105 girls freed from the clutches of Boko Haram