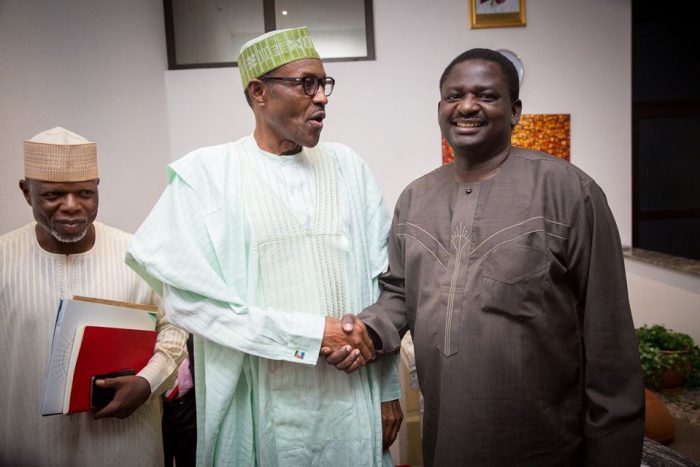 President Muhammadu Buhari (middle) shakes hands with Femi Adesina, his spokesperson | State House Photo
Femi Adesina, one of the spokesperson of ailing President Muhammadu Buhari has described members of the Peoples Democratic Party, PDP, as descendants of 'Shemei' who could "have their heads removed" if not for the kind benevolence of the former military dictator.
In an article titled
PMB and the Descendants of Shimei,
published on Saturday, July 22, 2017 in
The Sun Newspaper
, Adesina, a former president of the Guild of Editors of Nigeria, said that Buhari had ended the "dream of the PDP to rule the country for 60 years" and as such PDP members wanted him dead.
The presidential spokesperson said that most members of the former ruling party had been praying for the President to die so they could continue milking the nation's treasury dry, forgetting that man was not God.
Adesina likened story of the former ruling party to biblical story of Absalom, the son of King David, who had led an insurrection against his father. And the king of Israel fled, with some of his supporters in tow.
"President Buhari has been indisposed since the beginning of the year. It is human, and presidents, despite their elevated status, remain human," Adesina wrote.
"If there is anybody who considers himself 100 percent healthy, or who bears what William Shakespeare calls 'a charmed life', let that person stand up to be identified. All mortals are doomed to sickness, they can recover, and they can die.
"That is the truth that has been internalised by millions of people praying for the recovery of our President. And that is where the shallowness, vacuousness, and hollowness of people who wish the President dead, and carry unfounded rumours, is on stark display.
"Filthy dreamers. They speak evil of dignities, and despise dominion. But we forgive them, for they know not what they do. When President Buhari returns (as God would make him do) where would they hide their faces? In shame."
"As David got to a place called Bahurim, the Holy Bible records that Shimei, the son of Gera, a man of the family of Saul, came out, and started cursing the fleeing king. You don't kick a man that is down, goes a saying, but Shimei not only cursed David, he also threw dust and stones at him. It was a show of shame," Adesina wrote.
"The All Progressives Congress, APC, inspired by Muhammadu Buhari, halted the 60-year pipe dream of PDP at the polls in 2015. Has the latter forgotten? No, they won't forget till forever.
"But so much is the animus, the antipathy towards the President that they wish him dead. While millions of Nigerians are praying, some elements are rejoicing, and imagining evil. But they forget: man is not God, and Jehovah always has the final say. The descendants of Shimei need to learn vital lessons from their forebear.
"President Buhari has tolerated people who have called him all sorts of names in the past two years. If he didn't move against them directly, he could have allowed many
Abishais to move against them
, 'and take off their heads.'
"But not our President, a reformed democrat, a pious man, who has resolved to leave the people suffused by hatred unto God. And will they get their just desserts one day? As night follows the day, they will. If not from man, they will get it from God. Their forefather, Shimei did. He reaped what he sowed," the article said in part.