A suicide bomb blast at a mosque in northeastern Nigeria has killed at least 50 people and wounded many others, according to local officials.
Police said a teenage bomber targeted the mosque in the town of Mubi, Adamawa state, as people arrived for morning prayers on Tuesday.
There was no immediate claim of responsibility, but armed group Boko Haram carries out regular attacks in the region.
"We have 50 dead and we are now trying to get the exact number of those injured," Othman Abubakar, public relations officer of the Adamawa Police Command, was quoted as saying by the News Agency of Nigeria (NAN).
According to NAN, the mosque is located in Mubi's Dazala area.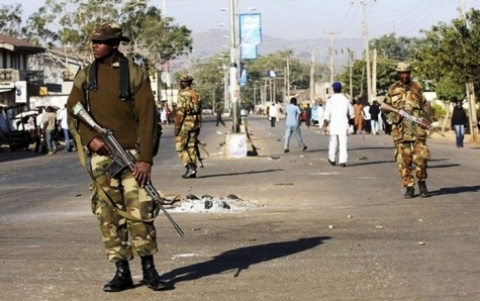 Emergency teams' response
"The number of wounded was so high that we will probably see more and more people succumbing to wounds," he added.
"Mubi is not far away from … the epicentre of the Boko Haram insurgency."
Boko Haram's eight-year armed campaign in the region has killed more than 20,000 people and forced up to 2.7 million to flee their homes.
In early November 2014, Boko Haram fighters briefly seized Mubi and renamed it "Madinat-ul Islam", or the city of Islam, before being driven out by Nigeria's armed forces.
NAN said Tuesday morning's attack was the first in three years since the recapture of Mubi in 2014.
Idris said emergency workers, who are usually based in state capital, Yola, had to travel for several hours to reach Mubi, some 200km away, because of the bad roads in the area.
"They have to drive for four hours to treat the injured because the hospitals in Mubi are not fully equipped to deal with the situation."
Home to about 200,000 people, Mubi is the second-biggest town in Adamawa state. Source:Pocket News
____________________________________
Copyright 2017 MEDIAPARROTNG. Permission to use portions of this article is granted provided appropriate credits are given to
www.mediaparrotng.com
and other relevant sources
Share your story with us: SMS: +234705 2286737 Whatsapp:+234705 2286737 Email: mediaparrotng@gmail.com